An easy one-bowl chocolate banana bread recipe. Make it vegan or dairy-free by using your regular milk. Only 213 calories per thick slice. Free printable recipe.
Yes, you guessed it, leftover bananas gone brown and a bit soft.
I just couldn't throw them out.
My first thought was smoothie or banana bread?
I had to do something with them or Graham would have lobbed them in the bin. He has no patience with brown bananas. He feels they have no place in our kitchen or any kitchen.
Do you have a husband, wife or partner like that?
He is so short-sighted when it comes to bananas, but you can be sure he is always really happy to be offered a deliciously
sweet green smoothie
or a slice of banana bread which he loves to eat spread with a generous layer of dairy-free spread.
As I it's my day off, I decided to take the time to make banana bread.
I say take the time, but it's really quick to make in one bowl, then once it's in the oven you can get on with other things.
Vegetarian or vegan banana bread?
It's up to you! I made this vegan for Graham, but you don't have to and to be honest the only ingredient to think about is the milk, so if you follow a dairy-free diet through health or choice then use your favourite nut milk and if you don't follow a dairy free diet, just use your regular milk.
Converting your favourite banana bread recipe to chocolate banana bread
To convert your favourite banana bread recipe to chocolate banana bread, just remove 50g or a third of cup of flour and replace it with a good quality cocoa powder.

That's it! That's all you need to do to make a chocolatey banana bread. Try this in other recipes too. Simples!
One bowl method
I usually make my
banana bread
in two bowls, one for the dry ingredients and one for the wet ingredients, but today I thought, lets save on the washing up and see if I can make this even quicker in one bowl.
I have to admit as I poured the flour, then the baking powder and salt on top of the wet ingredients, I did have that moment where I thought "Should I have mixed them together so the baking powder was mixed evenly through the batter?, but I went ahead with it and look at the rise.
Fabulous!
Nutrition and calories in banana bread
Only 213 calories for a thick slice of this chocolate banana bread. I divided it into 10 slices, you could go for a thinner slice (12 slices) for just 177 calories, but I think if you are having banana bread. HAVE banana bread. DON'T skimp!


As well as low in calories and fat, this banana bread contains 13% of your
daily recommended amount
(DV = daily value) of dietary fibre, 13% DV iron, 8% DV potassium, 3% DV calcium as well as 4.2g of protein.
Not bad for a slice of cake!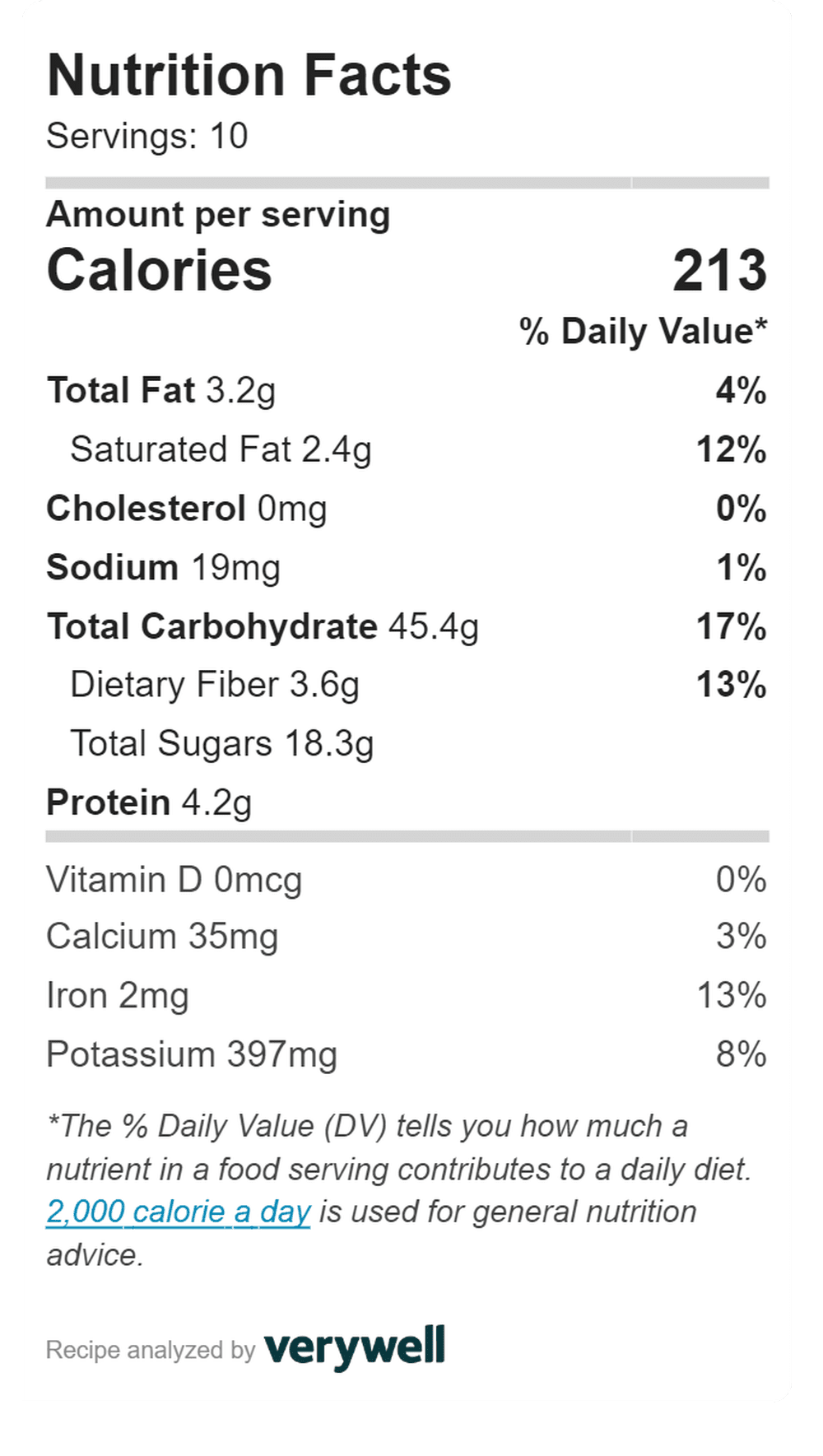 chocolate cake, chocolate banana bread, easy banana bread, one-bowl banana bread, banana cake, banana loaf, chocolate loaf, chocolate cake, vegan chocolate banana bread, vegan cake
snack, dessert, lunchbox
British, Scottish, vegan, vegetarian
Yield: 1 loaf of banana bread

Easy One-Bowl Chocolate Banana Bread
An easy one-bowl chocolate banana bread recipe. Make it vegan or dairy-free by using your regular milk. Only 213 calories per thick slice.
prep time: 10 mins
cook time: 1 hour
total time: 1 hours and 10 mins
ingredients
4 medium ripe bananas
120g/2/3 cup brown sugar
2 tsp vanilla extract
6 tbsp almond milk (or your favourite milk)
250g/2 cups plain flour
50g/1/2 cup cocoa powder
1 tsp baking powder
a pinch of salt
instructions
Preheat the oven to 180c/160c fan/350f/gas mark 4.

Line a 2 lb loaf tin. I like using loaf tin liners instead of cutting and fitting baking paper.

Mash the bananas in a bowl until mushy, then stir in the vanilla extract, sugar and milk. You can add a little more milk when you are folding the dry and wet ingredients together, if you think it needs it.

Once the wet ingredients are well mixed, add the cocoa powder, flour, baking powder and salt.

Gently fold the wet and dry ingredients together until just combined. Don't over mix, just enough until it's mixed, then pour in the loaf tin.

Bake in the oven for 1 hour.

Do a skewer test before the end of baking time, if it comes out clean it's ready. Keep an eye on it.

Leave to cool in the tin for a little while, then move to a rack to continue cooling.
calories
213
fat (grams)
3.2
sat. fat (grams)
2.4
carbs (grams)
45.4
protein (grams)
4.2
sugar (grams)
18.3
If you like this chocolate banana bread, you may like to try my
dark treacle banana bread
.